Join us at SLAS2023: Innovation Accelerated
We are excited to be exhibiting Sphere Fluidics' technology at SLAS2023: Innovation Accelerated!
Save the date for Sphere Fluidics' CTO Richard Hammond's Spotlight Talk!
Title: "High-throughput cell engineering in microfluidic picodroplets"
Summary: Cell engineering is bringing life science into a new era of novel approaches for biotherapeutic discovery and development, disease modelling, and synthetic biology research. Many current technologies used in cell engineering workflows typically involve multistep operations, high hands-on time, and lengthy liquid handling processes as well as low throughput bioassays for functional validation and verification. We wished to investigate the use of experimental tools to potentially enable automated, high-throughput cell engineering workflows. We demonstrate that using microfluidic devices with well-defined microchannel geometries and accurate flow control, uniform picolitre volume droplets (picodroplets) can be generated and used as miniaturized "test tubes" for high-throughput bioassays. We will showcase how we used picodroplet microfluidic technology to create novel, integrated and automated workflows for single cell genome editing, cell therapy, synthetic biology, and other research areas.
Date: February 27th 2023
Time: 17:30 – 17:50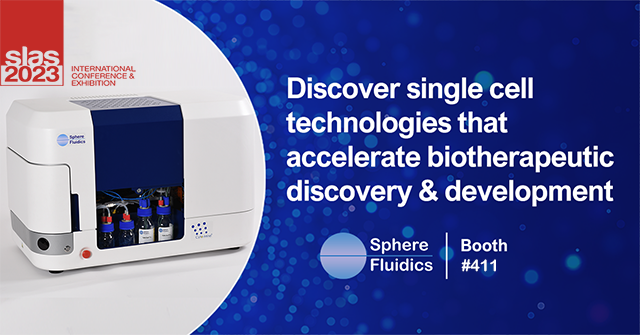 Our team will also be available at Booth 411 to discuss how we can help you with your projects!
When you visit us you can also enter our prize draw to be in with the chance to win an Apple Watch SE and Apple AirPods with Charging Case.
Poster Presentation:
Look out for Xin Liu presenting "Novel bioassays in picodroplets – accelerating biotherapeutics discovery and development" during the poster sessions.
We look forward to seeing you there!
More info about the event here