Sphere Fluidics recognized in IP100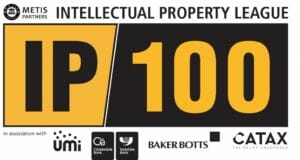 Sphere Fluidics recognized in IP100
We are exceptionally pleased to announce that Sphere Fluidics has placed 7th in the overall IP100 League Table for 2019.
The IP100 League is published across the UK and profiles and ranks innovative companies within the private sector, highlighting those which have significantly invested in their IP in the form of IP creation, IP management policies, R&D activities and IP commercialisation.
As an R&D driven organization, Sphere Fluidics strive to continuously innovate and provide better solutions to customers so that the development of biopharmaceuticals becomes increasingly faster and more cost-effective. Along with these objectives, we have developed a sophisticated IP strategy and internal IP culture, which includes a portfolio of 92 international patents (with 45 now granted). So, we are delighted to receive recognition for our IP at the heart of our novel microfluidic technology,
In the fifth annual IP00, Sphere Fluidics has ranked highly in three other categories; Trade Secrets, Patents and Critical Databases.
Sphere Fluidics has been awarded 2nd place in the Trade Secrets category following the 2019 implementation of a trade secrets policy.
The continuing trajectory of our IP growth has also been recognized as Sphere Fluidics continues to climb in the Patents category, moving from 13th place in 2018 to 8th place in 2019.
Sphere Fluidics has also been recognized in the Critical Databases category, in 11th place.
View the 2019 1P100 results at: http://metispartners.com/ip100/2019-results-update/